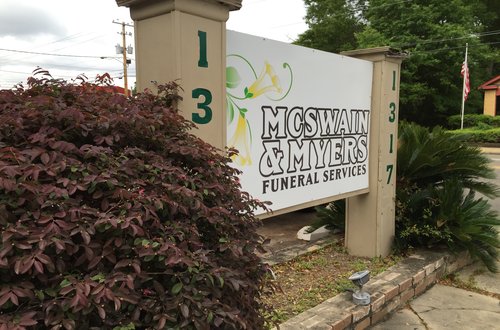 Lorraine McSwain and Mae Myers open their funeral service business in September of 2014. McSwain and Myers Funeral Service offer a product line that allows them to easily offer clients a variety of options. Mrs. McSwain and Mrs. Myers are enthusiastic and show their customers a level of care and concern that is not common in this particular industry. Mrs. McSwain has experience in this industry from working over seas in Afghanistan. Mrs. Myers has a family history involved in the funeral services industry. The past experience both of these ladies have in the industry set them far apart from the rest of the competition.
Lorraine McSwain started her career in logistics with the Department of Defense in Wiesbaden, Germany. After this she was a military personnel clerk with the Department of Defense at NTC Orlando, Florida. Mrs. McSwain spent 23 years working in the Social Security Administration in Hattiesburg, Mississippi, and 2 years working for KBR in Bagram, Afghanistan. She then worked for Lockheed Martin and Honeywell at Fort Stewart, Georgia. She worked the Last three years for ITT Exelis in Salerno, Afghanistan. Mrs. Mae Myers has spent the Last 23 years working for the Department of Human Services.
The experiences that these women are bringing to the table have molded them into individuals that are able to show families the respect and offer comfort they require in their time of need. When these to ladies decided to open their business their main concern was for customer service. From past experience they have found that many funeral home businesses do not always give their clients and their families what they deserve. Mrs. McSwain and Mrs. Myers plan to take this male dominated industry and become the number one funeral service business in the area.
"When my hero passed, the love and support the Army Recruiter's family showed me at my time of need, meant more than words can express. McSwain and Myers will treat you like family, with care, professional and compassionate service. All military burial performed by McSwain and Myers will receive 10% discount. Thank you for your service."– Lorraine McSwain